Ripple Labs, the creator of the decentralized XRP Ledger and issuer of the XRP cryptocurrency that powers it, is expanding its Liquidity Hub platform to Australia and Brazil.
Ripple's Liquidity Hub functions as the US fintech company's digital asset liquidity management service that it offers to large enterprises.
The platform supports services in BTC, ETH, LTC, ETC and BCH, as well as now USDT and USDC, but is yet to provide XRP.
While Ripple is yet to explain why it isn't offering XRP on its Liquidity Hub platform yet, the fact that the fintech company continues to expand its global business is a good sign for XRP's wider adoption. 
As more and more firms begin using Ripple suite of alternative liquidity products, more are likely to turn to the firm's XRP-powered On-Demand Liquidity service, which should boost XRP demand in the long-term.
Longer-term price predictions are thus likely to remain bullish, especially given that Ripple currently has the upper hand in its ongoing lawsuit versus the US SEC, who are suing the firm over XRP sales, which it calls an unregistered security.
However, in the short-term, news regarding this ongoing lawsuit will continue to buffer the price action.
A district judge presiding over the case ruled that XRP was not necessarily a security back in July, though the SEC has filed a motion for an appeal to challenge the ruling, and a decision on whether to grant this appeal is yet to be made.
XRP was last changing hands close to $0.50 per token, having failed an attempt to push above its 21 and 200DMAs earlier in the session.
However, if XRP can break above this resistance zone, the door is open for a swift test of resistance in the $0.56 area is likely.
That could mean quick near-term gains in the region of 15% are on the cards.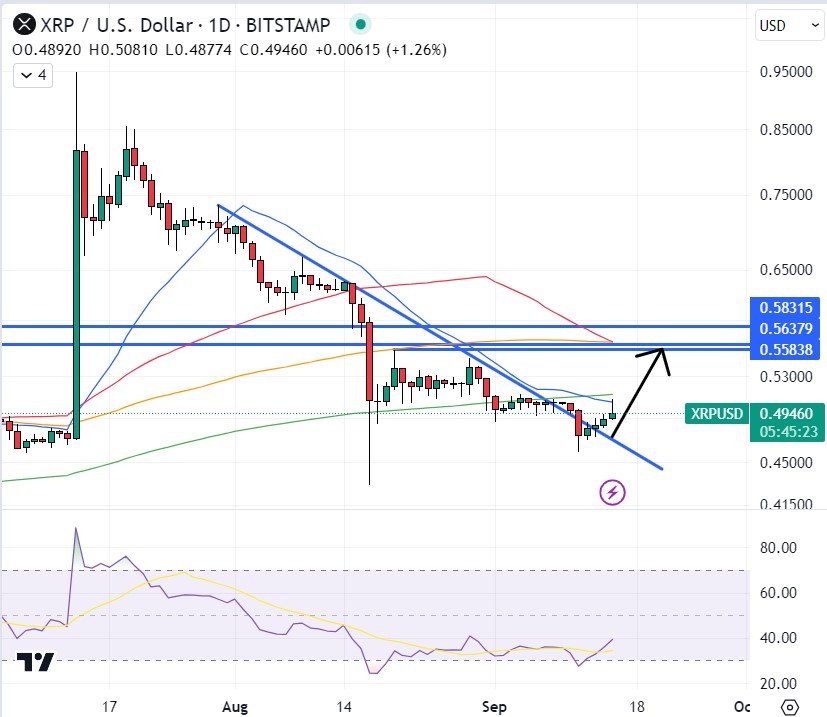 XRP Alternative to Consider
XRP's long-term outlook might be strong, but crypto investors are always advised to diversify their holdings.
One newly launched token that would make a strong addition to any investor's crypto portfolio is a new coin called Bitcoin BSC (BTCBSC).
Bitcoin BSC is a BEP-20 token issued on the Binance Smart Chain but with pretty much the exact same tokenomics of Bitcoin, although Bitcoin BSC winds the clock back to 2011, when Bitcoin traded at $1 per token.
Indeed, Bitcoin BSC tokens are currently being sold in presale for $1 each, with over $2 million already raised.
Bitcoin BSC holds various advantages over Bitcoin – it is greener thanks to the Binance Smart Chain's lower energy consumption and is more readily available for use in the Binance Smart Chain's growing Decentralized Finance ecosystem.
Moreover, Bitcoin BSC holders can stake their tokens to benefit from BTCBSC issuance according to the same schedule that Bitcoin was on back in 2011.
That means BTCBSC holders could be looking at double or even triple digit annual yields if they stake their tokens.
A similar project BTC20 – the exact same concept but issued as an ERC-20 token on Ethereum – was able to quickly sell out a blockbuster $6 million presale and then post gains of as much as 6x, while BTC20 is still trading above its presale price of $1.
Bitcoin BSC is thus an opportunity for those who missed BTC20 to get in early.
Bitcoin BSC could do even better than BTC20 given the Binance Smart Chain's faster transaction speeds and lower fees, making for a better trading and DeFi experience.
Investors need to move quickly, as the token's hard cap raise target of just under $4 million will likely soon be reached.
Buy Bitcoin BSC Here
Disclaimer: Crypto is a high-risk asset class. This article is provided for informational purposes and does not constitute investment advice. You could lose all of your capital.