Can the S&P 500 squeak by with another winning session? Watch for comments from Fed Chairman Jerome Powell to come and another Treasury bond auction.
We're working toward that time of year when Wall Street wizards start rolling out equity forecasts for the year to come. Based on where the S&P 500
SPX
stood on Wednesday, less than half are going to be right, though they've got nine weeks to turn things around.
Our call of the day comes from the founder of the long-biased hedge fund ValueWorks, Charles Lemonides, who expects stocks to struggle "for the next number of quarters at the very least," having been in the grips of a bear-market rally this year.
Not that such a set-up scares Lemonides, who manages $300 million at ValueWorks.
"If you can identify really good assets, and you can find them at 50 cents on the dollar, that's going to work out well over time," he told MarketWatch in a recent interview. "Because we've been in this challenged environment for so long, the number of those things that are really mispriced is large, and the ability to look through them, and find the best among them, is great."
The manager hedges his bets with varied picks — "security-specific and very distinct [from] one another." One of his favorite stocks right now is small-cap holding Hyster-Yale Materials
HY,
+1.37%,
a lift-truck and after-market parts maker, that he says is anything but small, with "$5 billion–ish in sales," though it trades at three times peak earnings.
His view on Hyster-Yale is that "valuation is going to support today's price, regardless," and for that same reason he owns chip maker Qualcomm
QCOM,
-0.55%
and banking heavyweight Goldman Sachs
GS,
+0.19%.
Lemonides also owns a "handful" of senior debt securities in retail and banking — that's the least risky kind of debt to own because the company must repay that money first if it goes bankrupt. He notes the yields on those became "very, very compelling, and it's not that we want to buy the yield … but we think the yield will go back down to the 8% range and we get a 50% capital gain on the preferred stock."
He's also invested in Joby Aviation
JOBY,
-4.62%,
which delivered its first electric air taxi to the U.S. Air Force in September. "That could be a very exciting long-term growth story and … you're buying it for significantly less than they've invested in developing their aircraft over the past 10 years," he said, adding that Joby is showing up as the leader in its field.
Making money on this comes down to "being able to discern which of these are real and which of them are fake and which of them will survive and which have been ones where the economic story has been real and where it's not," he said.
"So even if we think the market will be facing a headwind over the next six to nine months, some of these names are going to hold up just fine, and some of them are making money in the near term," he said. "And if it turns out that this is the beginning of a new bull market, these things will all rally by 15% to 25% in six months."
On the other side of the hedging equation, he's poised to profit via short positions in "a wide array of different companies." Among those is aircraft-parts maker TransDigm
TDG,
+0.27%,
which he notes has a "very significant debt load, is very levered and trades 10 times sales enterprise value," a metric that compares the total value of the company with its sales. The valuation is simply out of whack, he says. (TransDigm just announced a deal to buy an aerospace parts maker for $1.4 billion.)
Lemonides has a short position in revenue-cycle management group R1RCM
RCM,
+0.09%,
which does billing for hospital chains. He sees trouble ahead in the next year, noting its share price has lost ground in the past two. "They're not really at scale — they're small and have been built through acquisitions, and so there's a decent amount of debt outstanding, and the basic business has been challenged over the past couple of years."
And he thinks Envestnet
ENV,
-1.12%,
currently at $37 per share, is headed for $20. The fintech, which earns fees by getting in the middle of the money-management business, was a market darling for seven years but has been hitting fresh lows, he says. Its operating results have stalled in the past two years along with markets, meaning they've likely burned through a "significant" pile of cash and, given hefty management turnover, will "suffer in a tough market environment," said Lemonides.
He's also got a short position on Mister Car Wash
MCW,
+0.16%,
which has "leveled up car washes across the country" and whose "special sauce" is all about getting people to pay for subscriptions and clean vehicles more often.
"It's a fine idea, but we don't think it's a $2 billion idea. And the growth on the company has all happened because they bought car washes and sold the properties then leased them out, and that is going to wash out," he said.
That brings him to another reason to short those stocks — that investors running out of patience near year-end with companies whose share prices have dropped sharply over the past two years.
"If you paid $30 a share for Mister Car Wash and it's $5, the tax loss is worth more to you half the time than any upside in the stock. And so we think a lot of these will come under tax-law selling pressure coming into the middle of December," said Lemonides.
Also read: '$4 trillion of cash is sloshing around the sidelines,' says BlackRock executive
And: Beware of Wall Street's cash on the sidelines myth
The markets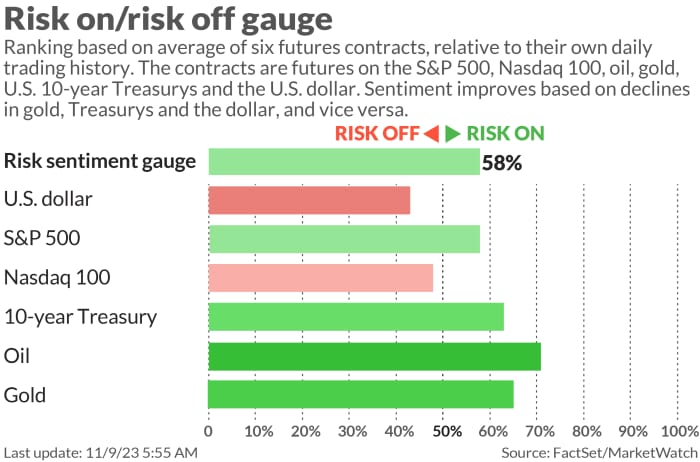 Stock futures
ES00,
+0.10%
YM00,
+0.12%
NQ00,
-0.07%
are largely flat, with bond yields
BX:TMUBMUSD10Y
BX:TMUBMUSD02Y
steady ahead of a $24 billion auction of 30-year notes
BX:TMUBMUSD30Y,
following what some would call a mediocre $40 billion sale of 10-year bonds on Wednesday. Elsewhere, oil prices
CL.1,
+0.74%
are modestly higher as the dollar
DXY
is easing off.
The buzz
Weekly jobless claims are due at 8:30 a.m., followed by an appearance by Fed chief Powell on a panel at the International Monetary Fund, and a speech from Philadelphia Fed President Patrick Harker at 8:40 p.m. Meanwhile, Chicago Fed President Austan Goolsbee said in an interview that the central bank is keeping an eye on the prospect of higher long-term bond yields.
Disney shares
DIS,
-0.11%
are up 3% on upbeat results and a jump in streaming customers, with Virgin Galactic
SPCE,
-10.34%
up 9% as it raked in revenue on space tourism and guided for higher sales ahead.
Opinion: Disney's Iger gets his hands dirty fixing studio woes — will be it enough?
Arm
ARM,
-1.57%
is down 5% after the chip designer's first earnings report since its IPO came replete with a disappointing forecast. Elsewhere, Nvidia
NVDA,
+1.35%
is reportedly launching microchips for China's market.
Footwear group Allbirds
BIRD,
+0.36%
is down 14% after a downbeat outlook and results, and Topgolf Callaway Brands
MODG,
-4.67%
is off 19% after cutting its full-year sales and profit outlook. 
The 4-month-old Hollywood actors strike is over after a deal was reached with studios.
At the Republican presidential debate Wednesday evening, some candidates expressed willingness to lift the Social Security retirement age.
Best of the web
The Fed is scrutinizing Morgan Stanley's international wealth-management arm
This fund beats the S&P 500 year after year. Here's its secret.
This is what travelers want more than they want perks
The tickers
These were the top-searched ticker symbols on MarketWatch as of 6 a.m.:
TSLA,
-0.03%
Tesla
AMC,
-1.27%
AMC Entertainment
NVDA,
+1.35%
Nvidia
DIS,
-0.11%
Walt Disney
AAPL,
+0.59%
Apple
GME,
-2.64%
GameStop
NIO,
+0.38%
NIO
AMZN,
-0.44%
Amazon.com
MARA,
-6.86%
Marathon Digital Holdings
MSFT,
+0.74%
Microsoft
PLTR,
-1.65%
Palantir Technologies
Random reads
The "sad" Ben Affleck meme is back.
A Pizza Hut in Hong Kong is putting snake meat on its pies.
Need to Know starts early and is updated until the opening bell, but sign up here to get it delivered once to your email box. The emailed version will be sent out at about 7:30 a.m. Eastern time.