The Buick Encore GX is GM's
GM,
-0.21%
slightly premium subcompact SUV that boasts one of the segment's quietest, most relaxing passenger cabins. Revised styling and a big new touchscreen lead the list of enhancements for 2024. Pricing starts at $25,600. 
Buick has discontinued the smaller Encore, so the 2024 Encore GX becomes the marque's smallest SUV. Actually, its smallest vehicle full stop. Because Buick doesn't make anything but SUVs these days. This also ends the minor confusion of having two models with extremely similar names.
This is the 2024 Encore GX, and it's looking sharper than last year thanks to styling updates.
It takes the usual Buick route of occupying the territory between mainstream and luxury. Changes this year, however, emphasize the luxury aspect with the inclusion of the Avenir trim. Buick offers Avenir trims with its larger Envision and Enclave SUVs, chosen by almost one in three buyers. Special features include leather seating surfaces, power-adjustable front seats, a cabin air ionizer, and a self-dimming rearview mirror.
The mid-level trim also receives a shake-up this year. Now named Sport Touring, it comes with a flat-bottomed steering wheel, because that's a current signifier of sportiness.
While the Encore GX is the smallest Buick, it's not the cheapest. That distinction goes to the sleek new Buick Envista.
Read more: The sleek new 2024 Buick Envista offers a touch of style for a practical price
2024 Buick Encore GX pricing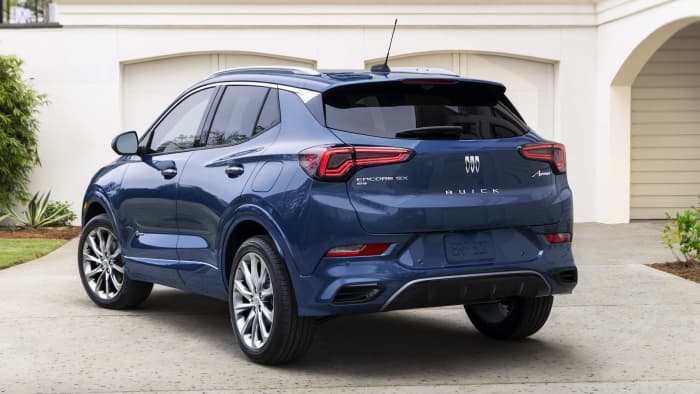 The 2024 Buick Encore GX starts at $25,600. That's for the base Preferred trim with front-wheel drive (FWD) and the smaller of the two engines available. Budget $2,000 for all-wheel drive (AWD). Adding a few options to the priciest Avenir trim could bring that model closer to $38K. The 1.3-liter engine is a $395 option on the Preferred trim, and it's standard on the two upper trims.
Buick's "nicer than mainstream, cheaper than luxury" approach means some rivals cost less and others are more expensive. The Lexus UX hybrid could be a luxury contender, whose 2023 pricing started at around $36.5K and will enjoy much better resale values than the Encore GX. Alternatively, consider something that's mainstream but quite high quality, like the Mazda
MZDAY,
-1.03%
CX-30 (from $23K in 2023). If an Encore GX is too small, the compact Envision starts in the mid-30s.
| | |
| --- | --- |
| 2024 Buick Encore GX | MSRP |
| Encore GX Preferred | $25,600 |
| Encore GX Sport Touring | $26,800 |
| Encore GX Avenir | $31,900 |
These are manufacturer's suggested retail prices and do not include the $1,295 factory-to-dealer delivery fee, also known as the destination charge.
Before buying a new Encore GX subcompact SUV, check the Kelley Blue Book Fair Purchase Price to know what you should pay. Resale values of the Encore GX are below average.
Also see: The 2023 Mazda CX-30 vs. the Hyundai Venue, 2 subcompact SUVs under $25K: Which is better?
What's new for 2024
The erstwhile top Essence trim has been replaced by the Avenir trim, while the mid-level Select becomes Sport Touring. The interior gains a new digital gauge cluster and a larger infotainment touchscreen. Styling revisions have been applied to both ends, and the Buick logo is modernized.
Driving the 2024 Buick Encore GX
There are no mechanical differences between this and previous model years of the Encore GX. It has a comfortable ride quality and a quiet cabin considering its size and price. But anyone seeking a thrill or two should look elsewhere.
Neither engine could be described as powerful. Horsepower ratings are 137 or 155. But the more muscular version delivers the best of its thrust at low engine speeds, which is great for driving away from the lights or moving into that gap in the traffic. This is also the one engine that can be paired with all-wheel drive.
Be sure to read: These are 2023's safest new cars
Tech-boosted interior
New for 2024, the Encore's passenger cabin now features an 8-inch digital gauge cluster and an 11-inch infotainment touchscreen. This is standard across the lineup.
Soft-touch plastics up front — harder, cheaper plastics in the back. That's how Buick does its almost-luxury thing. It's logical, since the quality perceived by the driver/owner is evident, and accommodating rear passengers may be a rare occurrence. Still, we've found pieces like the glove box to feel a little cheap, even in the top trim.
There's sufficient space for average-sized adults back there, which isn't bad for a kind-of-subcompact SUV like the 2024 Encore GX. And headroom isn't affected to any great degree by adding the optional sunroof.
The rear seats split and fold in the usual 60/40 manner. Behind them is a decent-sized luggage area. And the Avenir trim's front passenger seat folds down (optional in the other trims), so a longer object (like an 8-foot surfboard) can fit in diagonally.
Plus: 7 must-have safety features for your next car
Revised exterior
Styling revisions for the 2024 Encore GX include new LED lights at both ends, new bumpers, an updated grille, and different wheel designs. The fresh Sport Touring trim comes with front and rear bumpers finished in high-gloss black, and offers the option of a contrasting black roof. The equally new Avenir trim has its own grille and 19-inch alloy wheel designs, plus chrome-finished bumpers. Our eyes see it as an improvement all around.
A new Buick logo also makes its debut on the 2024 Encore GX. Instead of the three shields arranged in steps, they're all in line, and the shields themselves are more stylized than before.
Our favorite features and tech
Active noise cancellation
Part of the reason why the cabin of the 2024 Encore GX is so quiet. It really helps create a more luxurious ambiance. Standard equipment.
Wireless Apple CarPlay/Android Auto
Standard across the 2024 Encore GX range, cable-free phone integration is simply a nice convenience. Wi-Fi is also included.
Hands-free tailgate operation
Optional in the top two trims, it's always useful to have a feature like this when your hands are full.
All-wheel drive
Every version of the new Encore GX is eligible for all-wheel drive — which also means choosing the slightly more powerful engine, but that's no bad thing. All-wheel drive brings extra confidence in rough weather.
Heated seats and steering wheel
The new Avenir trim comes standard with heated front seats and a heated steering wheel.
Technology package
Available exclusively with the top Avenir trim, this includes adaptive cruise control, wireless charging, and a 360-degree camera system.
Check out: 10 new cars worth waiting for
Engine and transmission
Both engines available in the 2024 Encore GX are turbocharged 3-cylinder units. The base version has a displacement of 1.2 liters and makes 137 horsepower and 162 lb-ft of torque. This goes just to the front wheels.
A turbocharged 1.3-liter engine is also available, which is mandatory if all-wheel drive is selected. This one produces 155 horsepower and 174 lb-ft of torque.
When paired with front-wheel drive, the two engines have almost no difference in fuel economy. Regular gasoline is fine with any Encore GX.
Front-drive versions have a continuously variable transmission (CVT). Those with AWD employ a 9-speed automatic transmission. Maximum towing ability is 1,000 pounds.
1.2-liter turbocharged 3-cylinder engine
137 horsepower @ 5,000 rpm
162 lb-ft of torque @ 2,500 rpm
EPA city/highway fuel economy: 29/30 mpg
1.3-liter turbocharged 3-cylinder engine
155 horsepower @ 5,600 rpm
174 lb-ft of torque @ 1,600 rpm
EPA city/highway fuel economy: 29/31 mpg (FWD), 26/28 mpg (AWD)
More Encore GX fuel economy information is available on the EPA's website.
3-year/36,000-mile warranty
Buick's new-vehicle warranty is for three years or 36,000 miles, whichever happens first. The powertrain is covered for five years or 60,000 miles. These durations are typical among mainstream automakers. The first service is also complimentary.
KBB's car review methodology.
This story originally ran on KBB.com.