The Layer 1 blockchain protocol Aptos, founded by former Facebook employees, is preparing to release 20 million APT tokens in November according to data compiled by TokenUnlocks. With APT currently trading around $5.15, the token unlock is estimated to be worth over $103 million.
The upcoming token release represents 8.5% of Aptos' total circulating supply of 235 million APT. Tokens are often subject to locking periods to prevent early investors and team members from suddenly selling their holdings, which could sink prices.
Research firm The Tie reported that the scheduled November APT unlock could introduce significant liquidity into the market.
"The collective 20 million APT to be unlocked in November is equivalent to 112% of the average daily trading volume over the prior 30 days," The Tie wrote in their September 13 newsletter.
According to The Tie, previous token unlocks surpassing 100% of average volume have generally weighed on prices.
Data from APT perpetual futures markets indicates traders have adopted an increasingly bearish outlook.
Funding rates, which represent payments between long and short contract holders, have fallen to the lowest levels since February – a sign shorts are incentivizing longs to close positions.
Aptos (APT) Price Prediction and Technical Analysis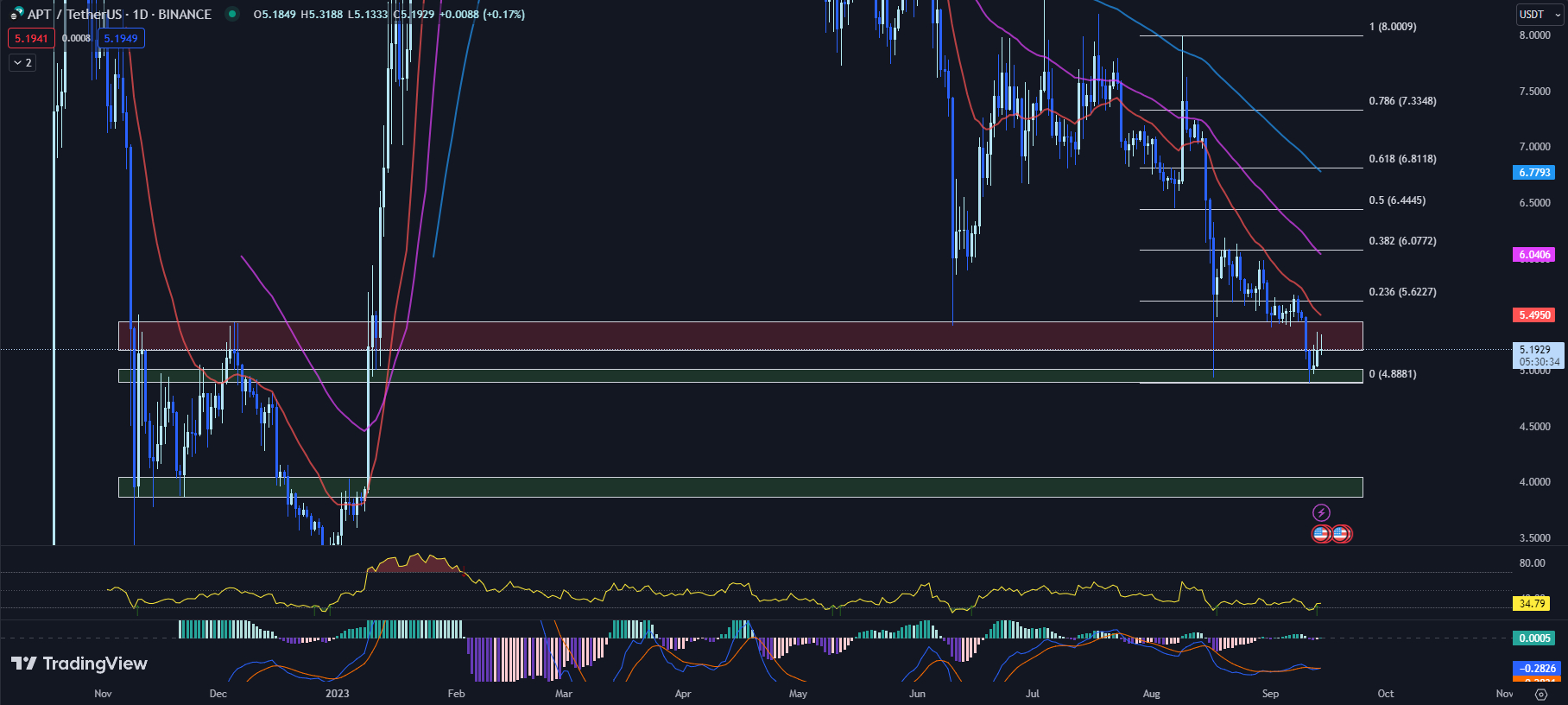 Despite a minor bounce of over 6% from its monthly low of $4.89 set on September 11, the APT price appears to be in an unsteady position.
The cryptocurrency, now in its third day of green, is showing signs of weakness with a mere increase of 0.17% so far today.
As the technical indicators of Aptos (APT) continue to flash bearish tendencies, traders considering a decision to buy Aptos should proceed with caution.
APT Price and the Influence of EMAs
The 20-day EMA for the APT price stands at $5.4950, which is currently above the present rate of $5.1929.
This suggests a bearish market sentiment. This trend is also affirmed by the 50-day and 100-day EMAs, which are $6.0406 and $6.7793 respectively, both significantly above the current APT price.
The current APT price is trading near the horizontal resistance zone of $5.1808 to $5.3372, and making attempts to move higher.
However, with all three EMAs above the current price and showing a downtrend, the APT price may still have a struggle ahead.
RSI and MACD Histogram: What They Indicate for APT Price
The RSI, currently sitting at 34.79, is slightly up from yesterday's 34.42, indicating that the APT price is approaching oversold territory.
While this could potentially signal a forthcoming price reversal in favor of the bulls, an RSI below 30 is typically required for such a strong signal.
Meanwhile, the Moving Average Convergence Divergence (MACD) histogram has moved from yesterday's -0.0078 to 0.0005 today.
This positive shift may suggest a bullish crossover in the near future, but traders planning to buy Aptos should still exercise caution until stronger bullish signals emerge.
APT Price: Assessing Resistance and Support Levels
The APT price is currently trading close to the resistance zone of $5.1808 to $5.3372, attempting to move higher. If it breaks past this resistance, it could establish a short-term bullish trend.
However, if the APT price fails to break this resistance, we might witness a pullback toward the immediate horizontal support zone of $4.8926 to $5.0109. A break below this support zone could potentially trigger a steep breakdown towards its next significant support zone of $3.8624 to $4.0455.
Traders who are considering buying Aptos should keep a close eye on these levels, as they could hint at where the APT price might possibly head next.
While there are faint signs of a possible uptrend, the technical indicators largely point towards a bearish sentiment for the APT price.
Those seeking to buy Aptos should proceed with caution, observe the market closely, and make well-informed decisions based on both the current data and upcoming market movements.
As the Aptos network gears up for its significant token unlock event, investors are eyeing new opportunities in the blockchain space.
One prospect that is capturing attention is yPredict, an AI-powered crypto analytics platform that has raised over $3.85 million in its presale so far.
yPredict is expanding beyond crypto tools with the beta launch of WriteMingle, a collaborative content creation software harnessing the power of AI.
yPredict Announces Beta Launch of WriteMingle for Content Creation and Collaboration; Raises Over $3.8 Million
AI software company yPredict has announced the beta launch of WriteMingle, its newest product leveraging artificial intelligence for streamlined content creation and collaboration.
As a leading provider of analytics solutions powered by AI, yPredict is expanding beyond crypto analytics tools with the release of WriteMingle.
The startup has opened applications for beta testers of the content software. Eligibility requires participation in the $YPRED token presale.
Visit yPredict Now
yPredict's Expansion Beyond Crypto Analytics
Building on the success of its flagship crypto analytics product yPredict Analytics, scheduled for launch after the token listing, the team has developed WriteMingle to build state-of-the-art tools across various industries.
WriteMingle offers an automated system for content generation, plagiarism detection, and search engine optimization to streamline the production of premium content.
Employing cutting-edge natural language processing and generative AI, it assists individuals, teams, and firms in rapidly crafting written material.
"We are thrilled to get WriteMingle into the hands of beta testers," shared Raj Sharma, the CEO of yPredict. "Our goal is to allow creators to focus on big picture content strategy while AI handles time-consuming tasks like proofreading and optimization."
With its intuitive interface, WriteMingle seeks to make premium content creation capabilities accessible to everyone.
Users can receive AI-generated content ideas and outline while getting real-time grammar and plagiarism checks. This software improves content by adhering to SEO norms, considering aspects like word count, headings, and meta descriptions.
Beta Testing and Future Plans
The beta version of WriteMingle boasts several notable functionalities, including unlimited editors for joint efforts, AI-driven plagiarism and readability metrics, integrated plagiarism cross-checks, automated on-page SEO tips, automatic internal connections between documents, an AI-based image generator featuring captions, and an AI-led backlink and content strategy architect.
yPredict has opened up the WriteMingle beta for a limited number of testers at no cost. The company intends to integrate their feedback into the tool ahead of an anticipated full-scale launch later this year.
Visit yPredict Now
Disclaimer: Crypto is a high-risk asset class. This article is provided for informational purposes and does not constitute investment advice. You could lose all of your capital.