Corporate bankruptcies look likely to hit the highest level in 13 years as the Federal Reserve's interest rate rises exacts a toll, according to Guggenheim Investments.
More than 450 corporations already filed for bankruptcy protection this year through the end of August, eclipsing annual totals for the past two years (see chart). At that pace, Guggenheim's macroeconomic and research team expects filings this year to reach the highest level since 2010.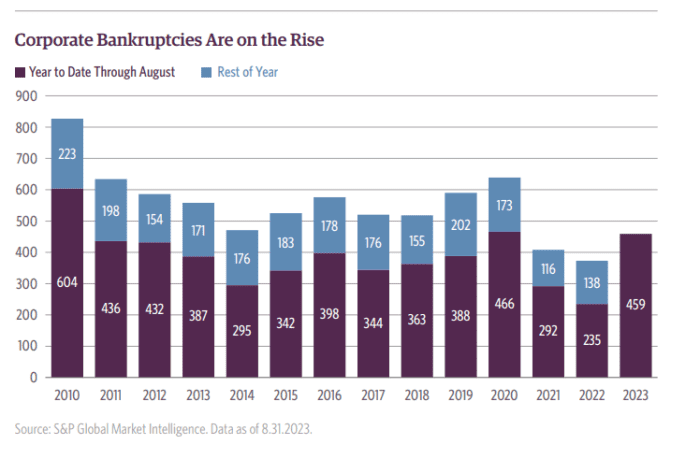 Guggenheim's team led by Mike Bush, U.S. economist, said a reacceleration of the U.S. economy looks unlikely, given that key spigots of support for the economy have begun to fade, namely the boost from sharply declining inflation, a growing fiscal deficit and a lack of widespread layoffs.
"The fading of these tailwinds will be a gradual process, but the peak of their support to the economy is now behind us," the team wrote, in a new client outlook. "With less support from disinflation, fiscal policy, and the labor market, the economy should slow by the end of the year, and we think a recession is likely by early 2024.
Companies often default when their debts comes due and liquidity runs out. Borrowing costs have surged since the Fed began to sharply increase its policy rate to its current 5.25% to 5.5%, a 22-year high.
Like U.S. homeowners, many corporations refinanced at ultra low rates during the pandemic, providing some breathing room from the Fed's hikes. While the central bank is expected to leave its rate unchanged next week at its September meeting, it is expected to keep rates high for some time.
See: U.S. economy is trending in the Fed's direction, so expect Powell to tread carefully next week
Cash to the rescue
Higher rates aren't a one-way street. While corporations face yields of 5.8% and 8.4% to borrow in the corporate bond market, overall interest expenses actually have declined due to gains on cash and cash-like investments, according to Guggenheim.
"We estimate that U.S. nonfinancial corporates are earning a record $171 billion in interest income from cash, Treasury, and Agency debt holdings, up $102 billion in interest earned from the same assets last year," the team said.
Put another way, while a credit crunch likely helped toppled a struggling bridal chain, Guggenheim expects resilience from "high margin and cash flow industries" as the economy slows, particularly with corporations sitting in the best position to cover interest payments since 1960.
For debt-laden companies the coming months look more precarious. BofA Global said on Friday the U.S. high-yield, or "junk," bond market faces a Fed that "has no choice" but to keep rates higher for longer, given the central bank's goal of a 2% annual inflation target.
"We think that the credit market can live with a 3% CPI scenario even at current stretched valuations," Oleg Melentyev, credit strategist wrote, in a Friday client note. The consumer-price index for August released on Wednesday reflected a 3.7% annual rate, and the biggest jump in 14 months.
Melentyev said a 4% reading of the consumer-price index likely results in cumulative defaults hitting 10%, with "meaningful" downgrades in the high-risk CCC-ratings category. "A re-acceleration to 5% CPI could cause a full-scale default wave," he said.
Stocks closed lower Friday as the United Auto Workers union kicked off a strike to help compel wage increases by the Big Three automakers. The Dow Jones Industrial Average
DJIA
eked out a 0.1% weekly gain, while the S&P 500 index
SPX
shed 0.2% and the Nasdaq Composite Index
COMP
dropped 0.4% since Monday, according to FactSet.
See: UAW strike: Ford, GM, Stellantis record profits haven't been shared fairly with workers, Biden says