The price of Ethereum (ETH) has stalled at $1,636 today, with the altcoin rising by only 0.3% in 24 hours and 1.5% in a week.
These movements come after Ethereum developers had to delay the launch of the much-anticipated Holesky testnet, which failed to operate as intended as a result of a parameter mismatch.
However, this setback doesn't appear to have affected ETH's price too much, and with Holesky expected to go live in the next week, the altcoin is likely to see a significant recovery soon enough.
Ethereum Price Prediction as Holesky Testnet Fails to Launch – Is It All Over for ETH?
Ethereum's chart and indicators now look like they're in a position where the altcoin can enjoy a sustained rebound, one which may go some way towards compensating for the coin's recent losses.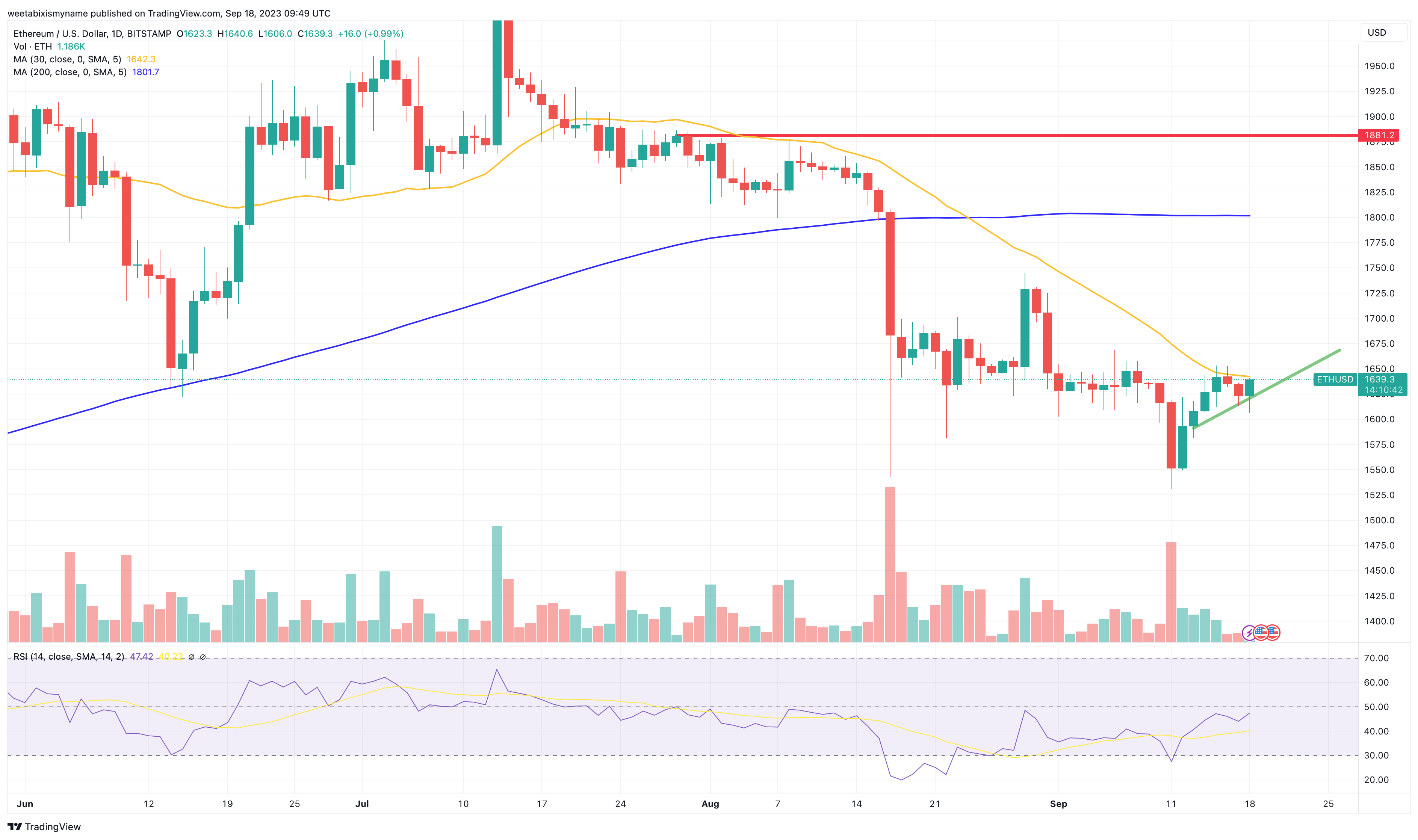 ETH's 30-day moving average (yellow) has dropped massively below its 200-day average (blue), implying that it has been oversold drastically in recent weeks and is overdue a rally.
At the same time, the coin's relative strength index (purple) has begun rising after a period below 40, an improvement which could suggest that its price has begun the process of recovering.
It's therefore encouraging to see that ETH's support level (green) has climbed in recent days after falling as low $1,550 last week, a sign that it has bottomed.
Of course, this doesn't necessarily mean that we're going to see a big recovery in the very near future, with Ethereum suffering the inconvenience of having an important new testnet delayed as a result of technical issues.
This setback potentially robbed ETH of the rally that may have happened if Holesky had launched successfully, with the testnet expected to help developers test new upgrades and modifications en route to deploying proto-Danksharding (which will help with scaling).
However, the successful launch of Holesky this week may go a long way towards providing the rally that didn't occur last week, with ETH due a rally for several weeks anyway (given how oversold it had been).
As such, now may be a good time to buy the altcoin, which is still priced at a steep discount relative to its fairer value.
Indeed, Ethereum continues to be the largest platform in the market, especially when its layer-two networks are added to the picture.
For this reason, ETH can be expected to reach $1,700 in the next few weeks, before nearing $1,900 or $2,000 by the close of 2023.
New High-Potential Altcoins
As strong as ETH remains, its growth is likely to be gradual, given just how established it is as a cryptocurrency.
in light of this, many traders may prefer to look into newer altcoins that show a stronger potential for above-average gains in the near future, with several presale tokens looking especially promising at the moment.
This includes Bitcoin BSC (BTCBSC), a BNB Chain-based cryptocurrency that has raised more than $2.7 million since beginning its presale at the start of the month.
It's very impressive that it has reached such a high benchmark so quickly, with Bitcoin BSC's attracting investors by virtue of how it offers a stakeable – and more affordable – version of Bitcoin.
1 BTCBSC is selling for the entirety of the sale at $0.99, a price that Bitcoin (BTC) itself reached back in 2011, meaning that investors will have the opportunity to compensate themselves for having missed out on the original cryptocurrency back when it was very cheap.
In line with its namesake, Bitcoin BSC will also have a hard cap of 21 million hard cap tokens, making it a deflationary cryptocurrency.
Yet what's arguably most interesting about the token is that, with 6.125 million BTCBSC being reserved for the presale, its remaining supply will be gradually released over time, in the form of staking rewards.
This means that BTCBSC could be doubly rewarding for holders, providing both price increases and a passive income.
New investors can join its presale by heading over to the official Bitcoin BSC website and connecting a crypto wallet.
Bitcoin BSC will then list on BNB Smart Chain DEX once the sale comes to a close, at which point it could make a hefty profit for its early investors.
Visit Bitcoin BSC Now
Disclaimer: Crypto is a high-risk asset class. This article is provided for informational purposes and does not constitute investment advice. You could lose all of your capital.