If you're a burger eater, you'll have plenty of reason to celebrate on Sept. 18. It's National Cheeseburger Day, after all, and many fast-food and fast-casual chains will be offering deals to mark the occasion. McDonald's
MCD,
-2.29%
is even selling double cheeseburgers for a mere 50 cents.
But what about the day after? Be prepared to pay — and then some.
In recent years, costs at these limited-service restaurants have climbed steadily. In August, menu prices were up 6.7% over the previous year, according to data supplied by the National Restaurant Association, a trade-industry group. That eclipses the overall rate of inflation, which was up 3.7%.
When it comes to burgers, the hit can be even greater. These days, it's not unusual to find fast-casual chains, which tend to be pricier than their fast-food brethren, charging well more than $10 for some of their specialty burgers. One telling example: If you order a Shack Stack burger at the popular Shake Shack
SHAK,
+0.02%
chain, you'll pay $12.55 on average, according to PriceListo, a company that tracks menu prices.
And what about the McDonald's Big Mac, that most famous of fast-food burgers? It cost just 45 cents when it was introduced in 1967. Today, it runs $6.30 on average, according to PriceListo. That's a hike that tracks well beyond inflation over the 56-year period.
Even compared to just a few years ago, the Big Mac has gone way up. In 2019, the iconic burger cost only $5.03, says PriceListo.  
Consumers have expressed growing frustration with such restaurant increases. TikTokers are having a field day discussing the subject. Whole Reddit threads are devoted to the matter as well.
As one Reddit commentator put it: "I mean there seems to me like there's almost no difference now between fast-food restaurants and regular non-fancy restaurants."
There are some obvious factors behind these price increases. Inflation certainly plays a primary role — and it's hit the restaurant sector, which operates on thin margins in the best of times, especially hard.
Keep in mind the 3.7% overall rate of inflation covers a range of goods and services and is focused on consumer pricing. The restaurant industry has struggled with a different kind of inflation, as in climbing wholesale food costs, which are ultimately passed along — at least in part — to the consumer.
In 2022, those costs were up 14.7%, according to the National Restaurant Association, which bases its figures on government data. "That's the highest increase since 1974," said Hudson Riehle, the association's senior vice president of research.
That's hardly the only factor, however. Increased labor costs are part of the picture as well — the National Restaurant Association says those were up about 9% in 2022.
But when it comes to the burgers that Americans love to consume, there's a specific pricing pressure that results in diners paying more. It all has to do with an ongoing cattle shortage — blame the pandemic and what The Wall Street Journal described as "years of persistent drought conditions."
The laws of supply and demand dictate that when there's less beef to go around, it will prompt a price increase. For some restaurants, that means emphasizing non-beef options. But many fast-food chains live and die by the burger, so there's no choice but to raise prices for those Big Macs and the like.
The bottom line, said Steve Zagor, a veteran hospitality consultant who also teaches at Columbia University, is that you can't really blame the restaurants.
"They're not using this as an opportunity to gouge their client but to manage their business successfully," he said.
McDonald's said it's still trying to strike the right balance of value and affordability with its customers. The company told MarketWatch that pricing is at the discretion of franchisees and may vary by location.
Other chains that MarketWatch reached out to for this story didn't respond for comment.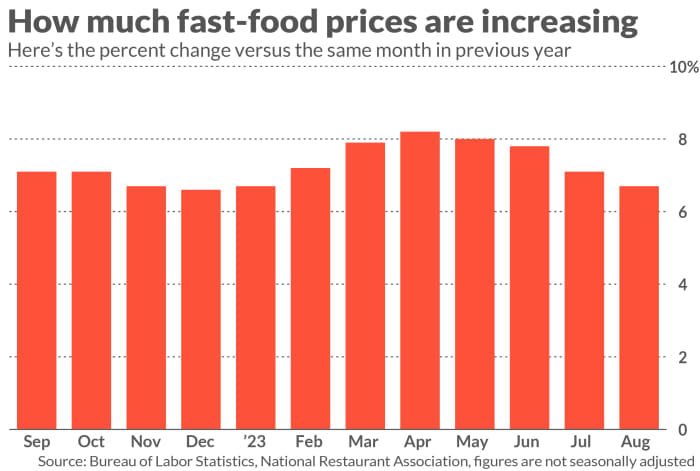 The question remains whether the soaring cost for fast-food burgers will result in diners skipping the popular menu item, if not avoiding dining out altogether.
So far, that doesn't seem to be the case — at least for industry leader McDonald's. In its most recent earnings report, the company beat analyst forecasts and said its global same-store sales rose by 11.7%.
Nevertheless, McDonald's CEO Chris Kempczinski pointed to some concerns in an interview with CNBC earlier this year. He noted "some pressure on margins in the short term." And he said customers may be adding fewer menu items to their orders — say, having the burger but skipping the fries.
For in the end, the burger is still the all-American essential. Or so says Bret Thorn, senior food and beverage editor at Nation's Restaurant News, the industry trade publication. He notes that diners at high-end steakhouses seemingly have no problem paying $80 for a nice cut of beef these days. And the same likely goes for those beef burgers at fast-food and fast-casual chains — even as prices continue to rise.
"Americans have loved beef and they continue to love beef," Thorn said.