Shares of chip-equipment suppliers fell Friday following a report that third-party chip fab Taiwan Semiconductor Manufacturing Co. was delaying deliveries to a facility under construction in Arizona because of concerns about demand.
The Reuters report, which cited two unnamed sources, said that TSMC
TSM,
-2.43%
was looking to control costs with its latest directive to suppliers.
While U.S. shares of TSMC fell 2.4% in Friday trading to close at $89.25, the PHLX Semiconductor Index
SOX
fell 3%. Shares of chip-equipment suppliers KLA Corp.
KLAC,
-5.35%
and Lam Research Corp.
LRCX,
-5.08%
closed down more than 5%.
Applied Materials Inc.
AMAT,
-4.37%
shares declined 4.4% to close at $138.25, and ASML NV
ASML,
-4.06%
closed down 4.1%.
Shares of GlobalFoundries Inc.
GFS,
-4.41%,
another third-party fab, shed 4.4%, while Advanced Micro Devices Inc. shares
AMD,
-4.82%
dropped 4.8% and Lattice Semiconductor Corp. shares
LSCC,
-5.09%
fell 5.1%.
Meanwhile, the S&P 500
SPX
closed down 1.2% and the tech-heavy Nasdaq Composite Index
COMP
declined 1.6%.
Citi Research analyst Atif Malik argued that the report was "no new news," and said he viewed any pullback in the chip-equipment subsector as a buying opportunity.
"We note that equipment makers like Tokyo Electron
8035,
+3.11%
and Applied Materials have already talked about leading-edge weakness this year offset by mature logic strength," Malik said in a Friday note. Shares of Tokyo Electron rose 3.1% in Tokyo trading.
At Citi's recent global tech conference, Malik said Tokyo Electron had mentioned seeing some amount of leading-edge push-outs for about one to two quarters, while KLA said it has more than $900 million in deposits on mature logic projects.
Late Thursday, before the Reuters report, Jefferies analyst Mark Lipacis released a note, observing that since 2022, stock performance for the semiconductor capital equipment, or SCE, subsector has correlated to advanced packaging exposure.
Advanced packaging is the industry workaround for the slowing of Moore's Law, which states the number of transistors on a chip should double every two years, making the chips faster, smaller and more efficient. Whether the law has been broken is a topic for debate among chip CEOs. While Nvidia Corp.'s
NVDA,
-3.69%
Jensen Huang contends that Moore's Law is dead, Intel Corp.'s
INTC,
-2.04%
Pat Gelsinger maintains it is still valid.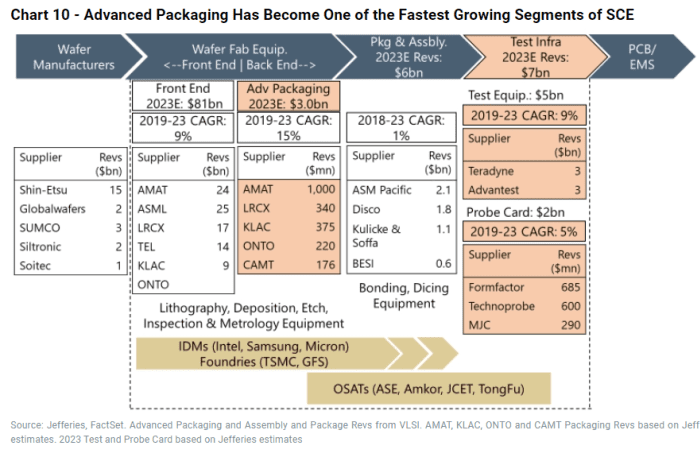 Either way, Lipacis believes that the unit growth of chips using advanced packaging will increase by 10 times to 90 million notebook central processing units in 2024, from 2023's 9 million data-center CPUs/graphics processing units that are expected to power generative AI and large language models.
"The bull case is that LLMs get inferenced in the handset," Lipacis said. Should that happen, he said to expect the total addressable market for advanced packaging to increase by another 10 times.
"LLMs with a large number of parameters could require larger chips in smartphones that need advanced packaging, potentially as early as 2025," Lipacis said. "We estimate the number of premium cellphones at 550 million and TAM at around 1.3 billion."
The Jefferies analyst noted that Applied Materials, Lam and KLA, along with Camtek Ltd.
CAMT,
-0.65%,
Onto Innovation Inc.
ONTO,
-4.18%
and Disco Corp.
6146,
+1.10%,
"remain top picks."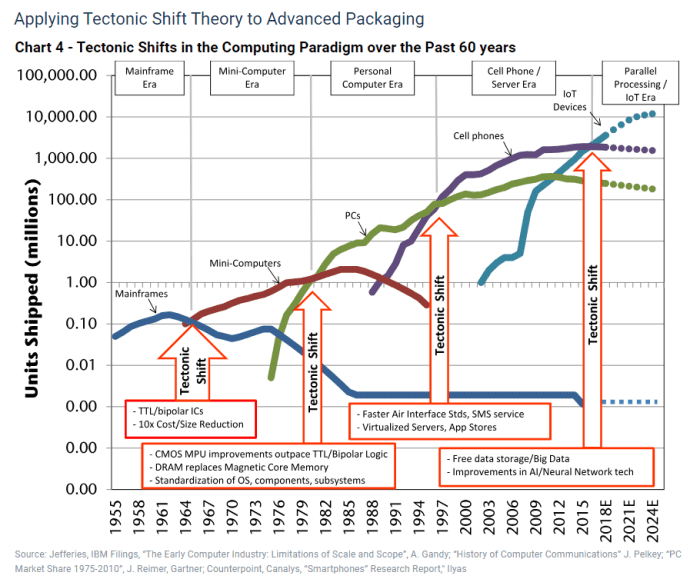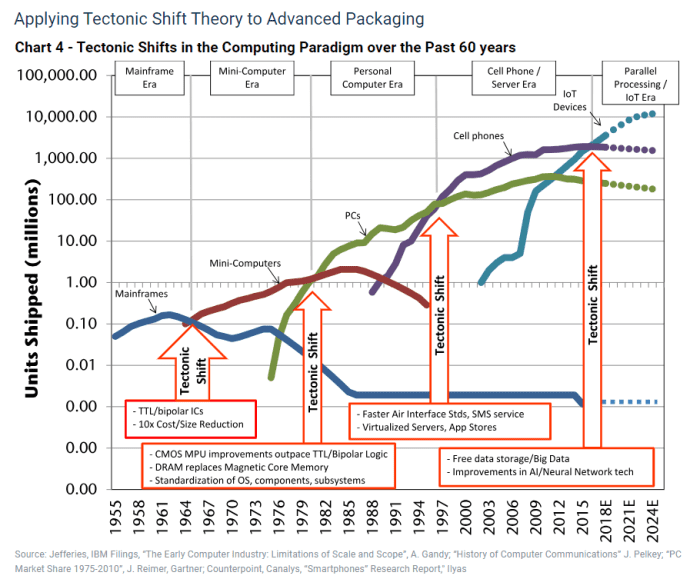 Wolfe Research analyst Chris Caso, who initiated coverage of the SCE group in a note dated Thursday, called Applied Materials his top pick, saying he considers the company "the most balanced exposure to leading edge, lagging edge, and memory while being best positioned to outperform [wafer fab equipment makers] with process and material innovations."
Caso gave outperform ratings to Applied Materials, ASML, KLA and Lam.