In a vibrant start to the week, Bitcoin is registering a modest increase of nearly 0.50%, trading at $26,647. This uptick coincides with notable developments in the crypto landscape. 
Financial educator Robert Kiyosaki has voiced his strong reservations about traditional fiat currency, going as far as to label it 'criminal money,' while throwing his weight behind cryptocurrency. 
On the platform front, FTX has efficiently manoeuvred past a recent cybersecurity breach, ensuring full access to its Claims Portal.
Parallelly, in the political arena, Senator Elizabeth Warren's cryptocurrency bill draws attention and amasses considerable support among her US legislative peers.
Robert Kiyosaki's Perspective on Fiat Currency vs. Cryptocurrency
Renowned author Robert Kiyosaki has expressed his support for cryptocurrencies, especially Bitcoin, labeling traditional fiat currencies as "criminal money." 
Kiyosaki, who predicts Bitcoin will reach $120,000 within the next year, cautions about an imminent economic crisis and advocates for digital assets as a protective refuge.
His optimism for Bitcoin arises from his faith in its resilience and its potential to bounce back after market slumps, primarily influenced by upcoming halving events. 
He contends that fiat currencies, including the US dollar, are headed for depreciation due to extensive monetary injections into the economy, resulting in rampant inflation.
Although Kiyosaki links inflation and its anticipated repercussions to the green energy policies under President Joe Biden, recent data challenges this claim. 
Bank of America states that such policies have generated over 86,000 clean energy jobs, 50,000 of which are in the electric vehicle sector, with projections of an additional 1.5 million jobs in the upcoming decade.
Kiyosaki's consistent critique of the US government's and the Federal Reserve's monetary strategies aligns with his prediction of a substantial economic downturn. He champions Bitcoin and other cryptocurrencies as sturdy assets in the face of the forecasted storm.
In light of these developments, BTC/USD is witnessing a favourable price movement today, with investors increasingly viewing Bitcoin as a potential safeguard against fiat currency devaluation and broader economic unpredictability.
FTX Resumes Full Access to Claims Portal Following Cybersecurity Breach
FTX, the cryptocurrency exchange, has fully reinstated access to its claims portal for users affected by its November 2022 collapse, following a recent cybersecurity breach. 
In response to a cyberattack on claims manager Kroll in August, FTX had frozen certain user accounts, but it has now unfrozen all affected accounts and fortified the portal's security.
In August, there was a breach that involved a "SIM swapping" attack on a T-Mobile US account. The account was linked to an employee of Kroll, which led to unauthorized access to the personal data of bankruptcy claimants. 
The affected companies include FTX, Blockfi, and Genesis. Kroll stated that there is no evidence to suggest that other systems or accounts were affected by this incident.
FTX has received approval from a bankruptcy judge to liquidate its digital assets, which are valued at over $3.4 billion. As a result, the cryptocurrency market, including BTC/USD, may experience a positive impact on prices. 
This is due to increased confidence in FTX's recovery efforts and overall market sentiment. FTX holds significant amounts of Bitcoin (BTC), Ethereum (ETH), and Solana (SOL), which will be used to repay creditors.
Cryptocurrency Bill by Senator Elizabeth Warren Gains Momentum Among US Lawmakers
Nine US lawmakers have expressed their support for the Digital Asset Anti-Money Laundering Act, which is a bipartisan bill that was reintroduced by Senators Elizabeth Warren, Roger Marshall, Joe Manchin, and Lindsey Graham. 
The aim of this legislation is to enforce anti-money laundering and counter-terrorism financing regulations for cryptocurrency companies. 
However, experts are concerned about how this move could potentially impact the privacy and personal freedom of cryptocurrency users.
The bill was initially introduced by Senator Warren in December, and then reintroduced in July. Recently, several additional senators have announced their support for it. 
The bill has received endorsements from various organizations, such as the Bank Policy Institute and Transparency International US, all of which are focused on curbing illicit financial activities that involve cryptocurrencies.
This news may have contributed to the recent rise in BTC/USD prices, signaling increased regulatory attention in the crypto sector and potentially boosting investor confidence in cryptocurrency markets' legitimacy and security.
Bitcoin Price Prediction 
Bitcoin's technical analysis shows a slight bearish tendency. Currently, Bitcoin is stable near the $26,800 resistance, just above the $26,500 support, indicating a potential double-top pattern. 
An existing downtrend at $26,750 might limit its ascent. Breaking it could aim for $27,000, with $27,600 as a major barrier before reaching $28,000.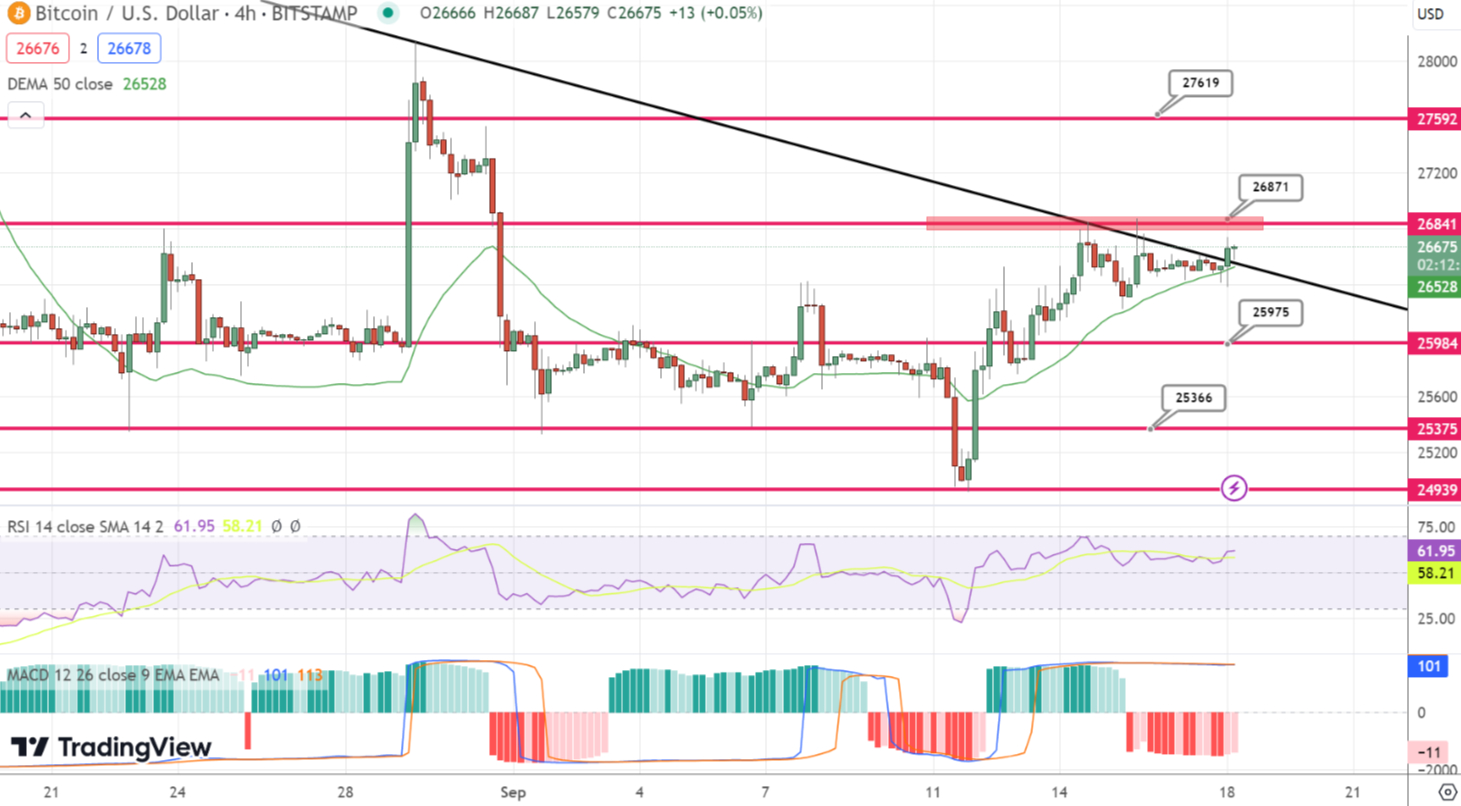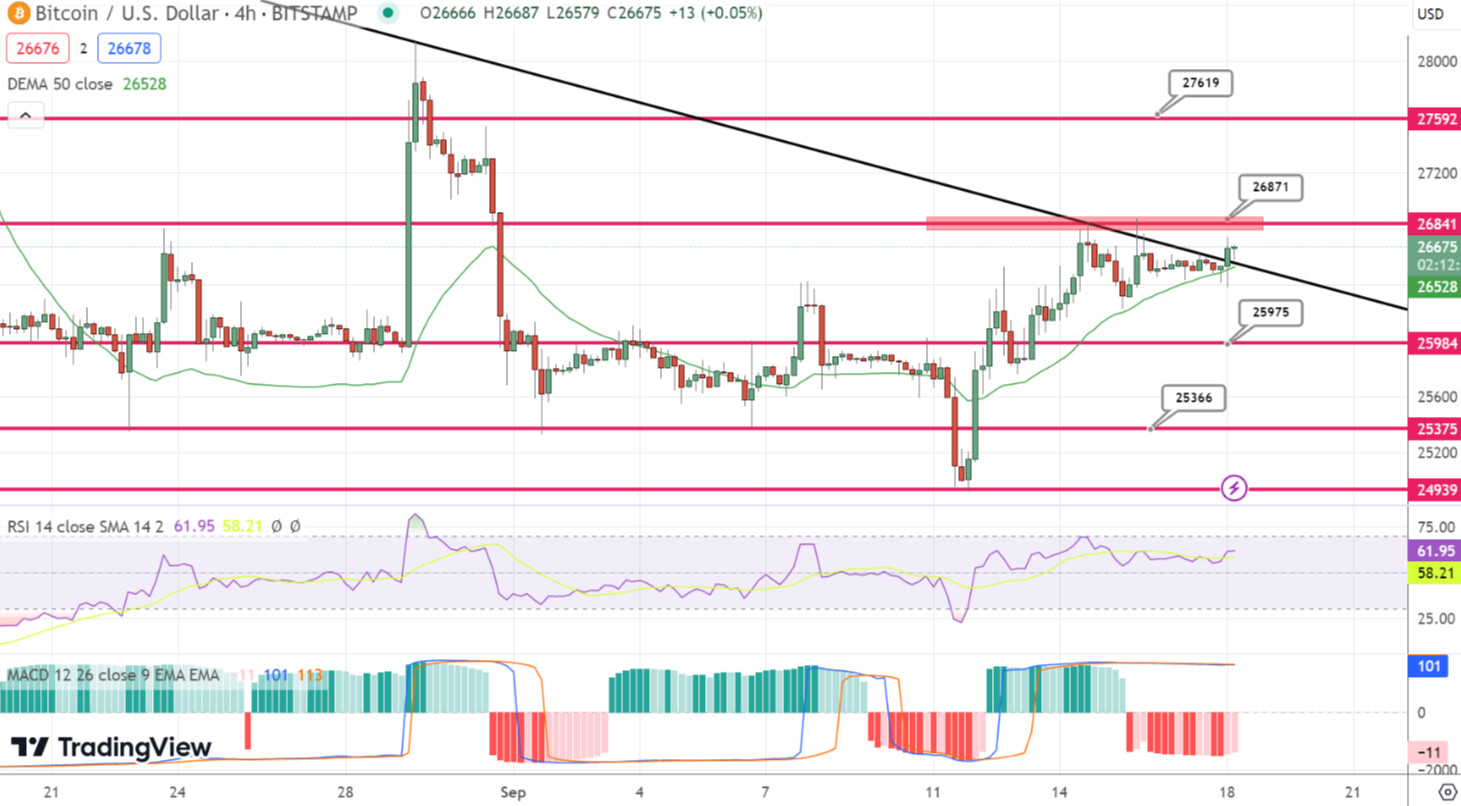 Conversely, failing to exceed the $26,750 could lead to a decline to $26,000 or even $25,250. Several technical indicators hint at a possible bullish shift. 
The $26,500 level is pivotal for investors: prices above suggest buying, while below signal selling.
Top 15 Cryptocurrencies to Watch in 2023
Get ahead of the game in the world of digital assets by checking out our carefully curated selection of the top 15 alternative cryptocurrencies and ICO projects to watch for in 2023. 
Our list is compiled by industry experts from Industry Talk and Cryptonews, so you can expect professional recommendations and valuable insights for your cryptocurrency investments. 
Stay updated and discover the potential of these digital assets.
Find The Best Price to Buy/Sell Cryptocurrency


Disclaimer: Cryptocurrency projects endorsed in this article are not the financial advice of the publishing author or publication – cryptocurrencies are highly volatile investments with considerable risk, always do your own research.