In an ever-evolving world of cryptocurrency, Bitcoin continues to lead the pack, defying expectations and reaching new heights. The latest buzz? 
Bitcoin has successfully breached the $26,000 mark, prompting investors and enthusiasts alike to speculate on its next move. 
As of today, the live Bitcoin price stands impressively at $26,584. With a notable 24-hour trading volume of $12.6 billion, BTC has seen a growth of 1.25% in just the past day. 
Its dominance in the market remains unchallenged, holding the #1 spot on CoinMarketCap with a staggering market cap of $518 billion. 
And while there's a circulating supply of 19,485,962 BTC coins, one must not forget the ultimate cap set at 21,000,000 BTC coins. 
The question on everyone's mind now is simple: What's next on the horizon for Bitcoin?
Bitcoin Price Prediction 
Examining Bitcoin's technical landscape reveals a moderately bullish sentiment. Currently, Bitcoin trades just above the $26,000 resistance level, holding steady near the double-top resistance at $26,500, which now serves as a support. 
This position prompts the question: what previously dictated its placement? 
On the upside, a descending trend line may cap Bitcoin's potential growth around the $26,750 mark. Yet, if BTC successfully breaches this barrier, it could aim for the $27,000 milestone. 
Beyond that, $27,600 emerges as a significant obstacle. Surpassing the $27,600 threshold might propel BTC towards the $28,000 resistance or even higher.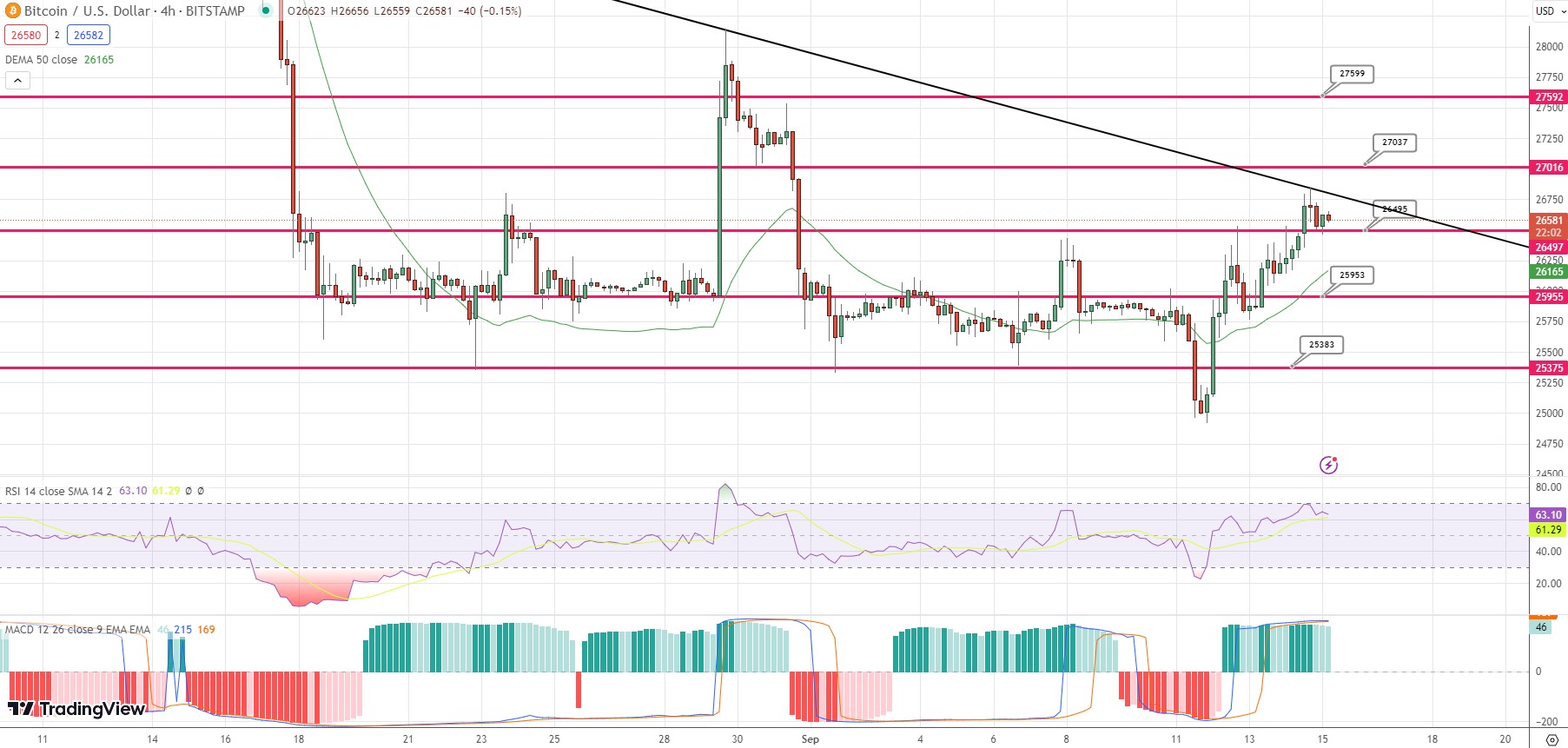 Conversely, the descending trend line might prove a formidable barrier around $26,750. 
Should Bitcoin fail to ascend past this point, we could witness a dip towards $26,600 or even a retest of the $26,000 support. Heightened selling pressure could further drag BTC's value down to approximately $25,250. 
However, considering technical indicators like the 50-day exponential moving average, relative strength index, and the moving average convergence and divergence, all signs point towards a buying trend, emphasizing a sustained bullish momentum.
Consequently, traders should monitor the $26,500 mark closely, as it is poised to be a pivotal point; prices above may indicate buying potential, while those below might signal selling opportunities.
Top 15 Cryptocurrencies to Watch in 2023
Get ahead of the game in the world of digital assets by checking out our carefully curated selection of the top 15 alternative cryptocurrencies and ICO projects to watch for in 2023. 
Our list is compiled by industry experts from Industry Talk and Cryptonews, so you can expect professional recommendations and valuable insights for your cryptocurrency investments. 
Stay updated and discover the potential of these digital assets.
Find The Best Price to Buy/Sell Cryptocurrency

Disclaimer: Cryptocurrency projects endorsed in this article are not the financial advice of the publishing author or publication – cryptocurrencies are highly volatile investments with considerable risk, always do your own research.